InnerScope Hearing Tech (OTCQB:INND) Poised for Significant Price Boost in 2020 as their FDA Clinical Trial Nears Completion with Significant Company Advancements.
---
Highlight: "we anticipate revenues from InnerScope's audiological hearing aid retail clinic division to be in excess of one hundred million ($100,000,000) "
---
Innerscope Hearing Technologies (OTCQB:INND) recently hit a milestone as they successfully launched their 11th out of 25 hearing aid location. From this, analysts are piecing together the numbers needed to crack the companies anticiapted $1.00 per share market price. The CEO of Innerscope hearing recently outlined some of the revenues figures that will be flowing in from the hearing aid locations the company is currently setting up.
How many hearing aid retail locations are currently opened?
Answer: There are 7 hearing aid locations owned and operating under InnerScope's dba brand name of "Value Audiology & Hearing Aid Center in Sacramento and San Francisco Bay Area.
What is your projected total of locations by end of 2019 and beyond?
Answer: We anticipate having 25 locations by the end of this year. We have plans to open at least 25 locations per year for the next 3 years. This will give InnerScope at least 100 stores on the west coast from Seattle to San Diego by the end of 2022.
Can you give some insight on the financial outlook for each location?
Answer: Each location with average 6-month ramp up in the each marketplace should generate a minimum of 500k to 1.5M in annual revenue.

So, by end of year 2022 based on continuing to open new locations, we anticipate revenues from InnerScope's audiological hearing aid retail clinic division to be in excess of one hundred million ($100,000,000)
This is now inline with a recent report that suggests the company is nearing the completion of their much anticipated clinical trial.
Answer: Yes, InnerScope is currently conducting a multi-site, double-blind, placebo-controlled randomized evaluation of the effect of using low level laser therapy (3LT) on the relief of Tinnitus (ringing in the ears) symptoms. Tinnitus affects about 50 million people in the U.S. and 15% to 20% of the world's population suffers from Tinnitus. Moreover, 90% of people with Tinnitus also have hearing loss.

We believe once the FDA Clinical Trial is completed InnerScope will receive a FDA 510K market clearance for its Tinnitus 3LT laser. This confidence is based on the years of InnerScope's Chairman and my father Mark Moore, who has worked in conjunction with Erchonia, the world's leader in 3LT technology, using Erchonia's 3LT lasers on patients with Tinnitus and hearing loss that has led to the development and protocols of this FDA Clinical Trial.
Once you obtain the FDA market clearance; what is InnerScope's Plans for the Tinnitus Laser?
Answer: When InnerScope receives it 510K Market Clearance, InnerScope will have the only FDA-Cleared device on the market for treating of Tinnitus that is not considered maskers and/or management devices. InnerScope's Tinnitus Laser would be a treatment for the relief of Tinnitus symptoms.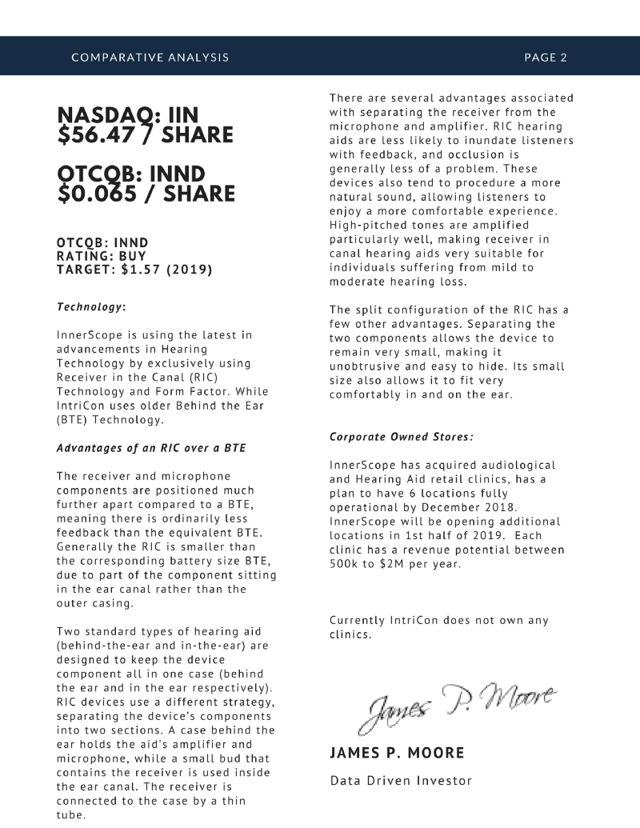 From this, we believe that with all retail locations set up and running (they have completed 11 out of 25 so far), and the approval of their FDA clinical trial, they will be in a better position financially and in terms of market reach compared to their nearest competitor, Intricon Inc, which is trading at $18.31 per share.